Franco Angeli
Rome, 1935 – 1988
Born in the San Lorenzo district of Rome in 1935, to a family steeped in the anti-Fascist and socialist traditions, Franco Angeli made his debut on the vibrant Roman art scene in the 1960s. From the outset, art for him was a declaration of freedom – one that cast a critical eye on contemporary society. Together with artists of the so-called School of the Piazza del Popolo, he helped breathe new life into a cultural scene still riven by the division between abstraction and militant figuration. In the '60s, his work appeared in several exhibitions at the Tartaruga Gallery and he participated in the famous 32nd Venice Biennale (1964) and in the 9th Quadriennale (1965) in Rome.
Read more
In his early works, the forms resemble fading impressions in which a dissipating haze is achieved through the use of scraps of nylon stockings stretched and glued to the canvas to produce the evocative effect of emerging shapes. He soon began to look upon symbols and figures as disquieting signs of power, bound up with the idea of violence. In Angeli's hands, these symbols come to the fore, serving as a sort of transparent stage curtain, behind which the figures-symbols are set out. This was both a way of denouncing the violence that accompanies those representations of power and a technical device deployed to highlight the futility and illusory nature of those images. Angeli stresses their rhetorical aspects, their false, bloated emphases, calling attention to the emptiness and self-deception of their grandstanding. Angeli's canvases became laden with moral and political content.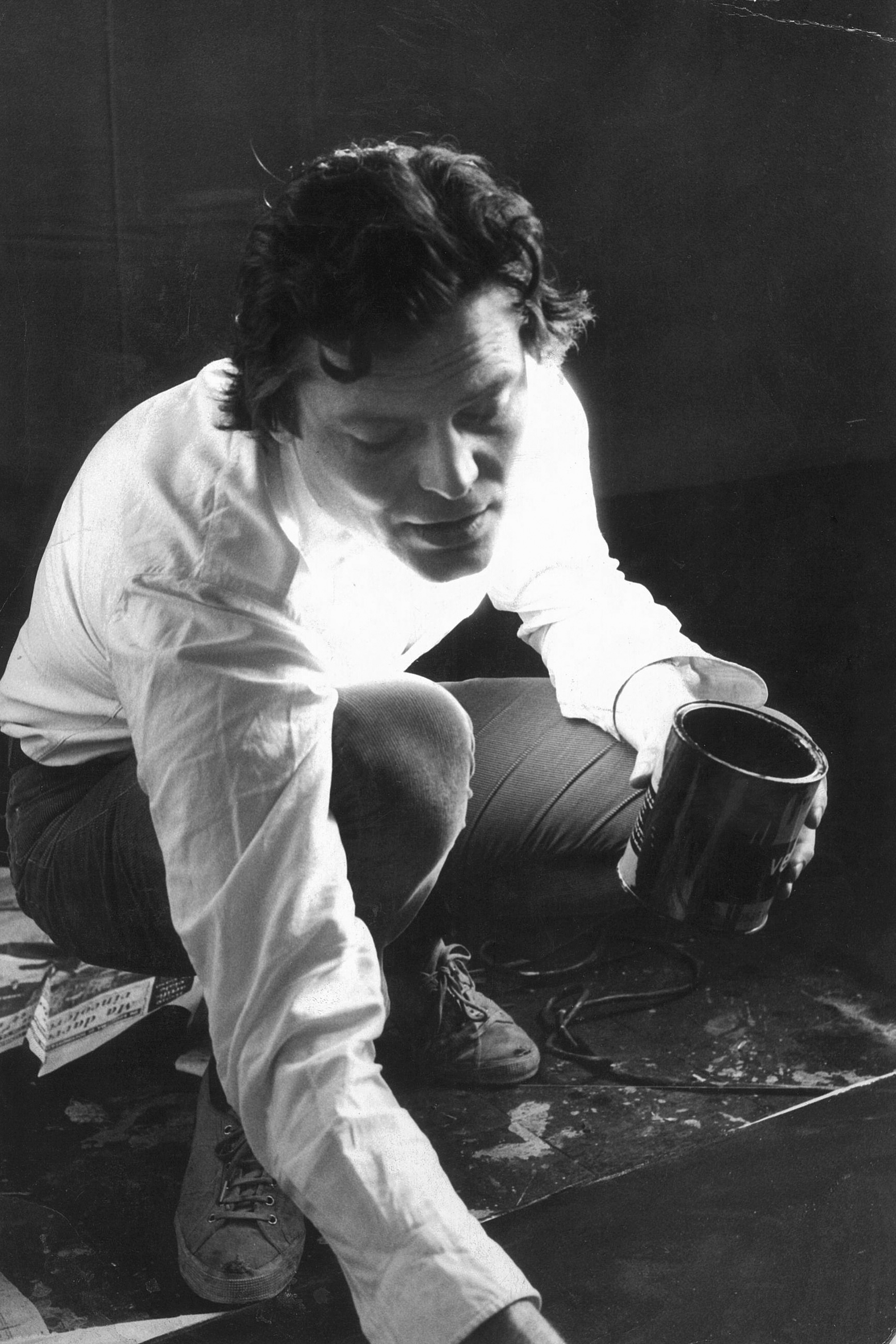 Unlike American Pop Art, the symbols he used were not mechanically replicated icons; on the contrary, they were interpreted, drawn and traced out by hand – rather than assembled, they were depicted one after the other. His works utilize political symbolism, but the arrangement of the figures is always arbitrary, never the result of a geometrically calculated operation. According to critic Maurizio Fagiolo dell'Arco, Angeli's poetics is based on the fragment: the artist zooms in on American coins in ever-changing compositions that never repeat. His portfolio of figures includes the swastika and the hammer and sickle, used as both negative and positive symbols. The artist died in 1988 in Rome – the city where he had always lived, which had been his point of departure and which remained a crucial frame of reference for his art.
Artworks
Franco Angeli, Senza titolo, 1965